responsible conduct of research, reliable research results, teaching and learning
А door into an honest, reliable, respectful, and accountable scientific community
8 APR 2019
When students study research integrity in a traditional way, they may learn how the subject helps them on an individual level in their own scientific projects, while still underestimating the relevance of research integrity for a knowledge-based society, both within and outside the scientific research. In order to help open this door for students into an honest, reliable, respectful, and accountable scientific community, the Horizon2020 project Path2Integrity was established in January 2019 to support young researchers, bachelor's and master's students, and school students older than 16 in understanding via innovative methods what research is and why it is important to actively engage in dialogue on research norms.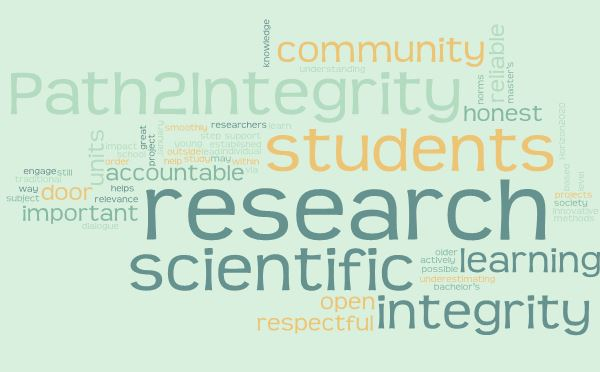 To lead this step into the scientific community as smoothly and with as great an impact as possible, Path2Integrity is designing 20 learning units that address important principles of research integrity. The 20 learning units will be accompanied by a Path2Integrity campaign raising awareness about the research integrity and its purpose. With this two-component approach, Path2Integrity uses formal and informal learning settings to open the door for students.
Project partners are basing their efforts on educational evidence indicating that student-centred methods are more successful in teaching ethical subjects than traditional methods are. Keeping in line with the problem-based learning approach, the learning units present vivid and engaging stories that the different target groups can connect to, and which challenge them through role play and storytelling. The learning units are systematised by learning aims that refer to the subjects' 1) research environment; 2) training, supervision, and mentoring; 3) research procedures; 4) safeguards; 5) data practices and management; 6) collaborative working; 7) publication and dissemination; and 8) reviewing, evaluating, and editing (referring to the categories of the The European Code of Conduct for Research Integrity. Revised Edition. Ed.: All European Academies, Berlin, 2017).
To encourage younger generations, role models will be the focus of the Path2Integrity Campaign. In order to successfully reach different groups depending on their involvement in research, the campaign strategy is divided into disruptive, visual, and mobilising campaign tactics using videos, leaflets, infographics, social media posts, etc.
During the next three years partners will support the Path2Integrity Learning Units and the Path2Integrity Campaign by carrying out trainings with a special train-the-trainer program, evaluating evidence on how successful our learning units are, and disseminating our results in open access publications.

This article was published in ENRIO - the European Network of Research Integrity Offices.