Rotatory role-playing and role-models to enhance the research integrity culture
Why role-play and storytelling to foster Research Integrity in Europe?
From 3 to 6 September 2019, in Hamburg, Germany, the European Educational Research Association held its annual Conference - ECER 2019. The conference went under the slogan "Education in an Era of Risk – the Role of Educational Research for the Future" and brought together around 3000 participants.
As a contribution to the session "The Dark side of Academia: Cheating and Unethical behaviour", which focused on research integrity in higher education, Path2Integrity's Coordinator Prof. Julia Prieß-Buchheit, Coburg University of Applied Sciences and Art and Dipl. Päd. Nicolaus Wilder, Kiel University, gave a talk titled "Why role-play and storytelling to foster Research Integrity in Europe?"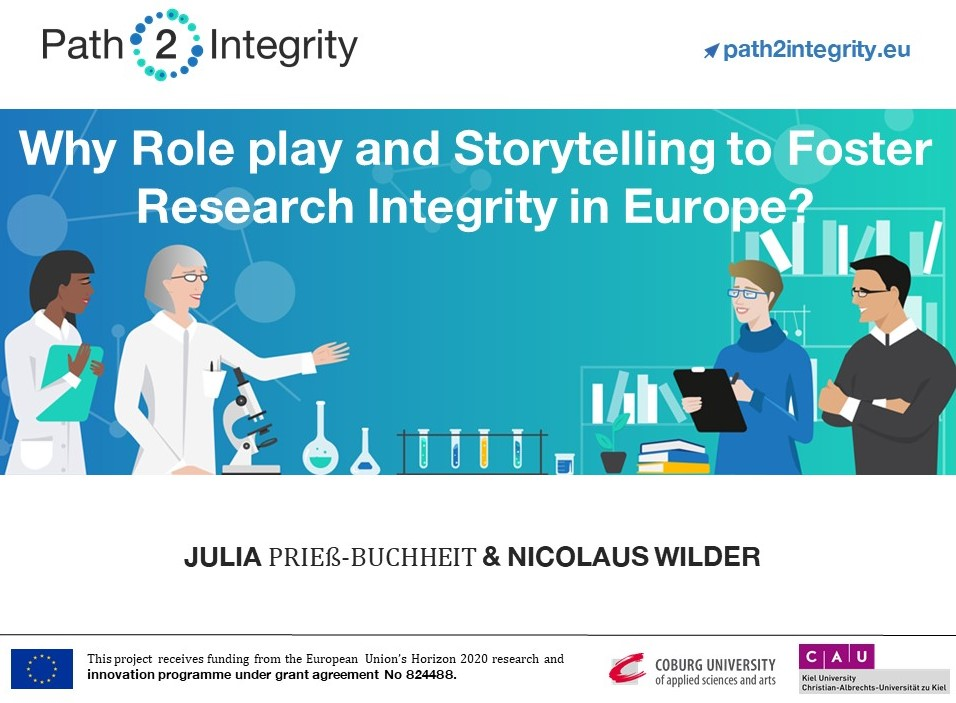 This talk focused on the design of EU-project Path2Integrity, which contains an idea on how to teach research integrity in 15 European countries. Path2Integrity uses role-play and storytelling as methods in formal learning settings.
The "Path2Integrity" designed by the project aims to maximize the quality and societal impact of research and to fostering integrity as an integral part throughout the research process. We emphasise the virtue of integrity and enable a comprehensible handling of new scientific techniques as well as compliance in the responsible conduct of research.
Since January until December 2021, the Path2Integrity project supports formal and informal learning methods in higher eduaction and contributes to the establishment of a culture of research integrity by pursuing the following aims:
1. Establish learning paths with research integrity role-models and rotatory role-playing by developing and disseminating a Path2Integrity handbook of instructions.
2. Raise awareness with a widespread Path2Integrity campaign on scientific facts about research integrity and role-models in educational organisations.
Our aim is to provide opportunities for sustainable learning units, including principles of gender equality and diversity.
After outlining the complex project Path2Integrity (Horizon2020) in a sketch, the talk presented evidence-based argumentation on 1) why the project decided to follow a two-component approach, 2) why it emphasizes role-play, 3) why it adds a train-the-trainer program, and 4) why it teaches research integrity in disciplinary classes.