responsible conduct of research, reliable research results, teaching and learning
The Path2Integrity learning cards are ready and waiting to be used!
7 NOV 2019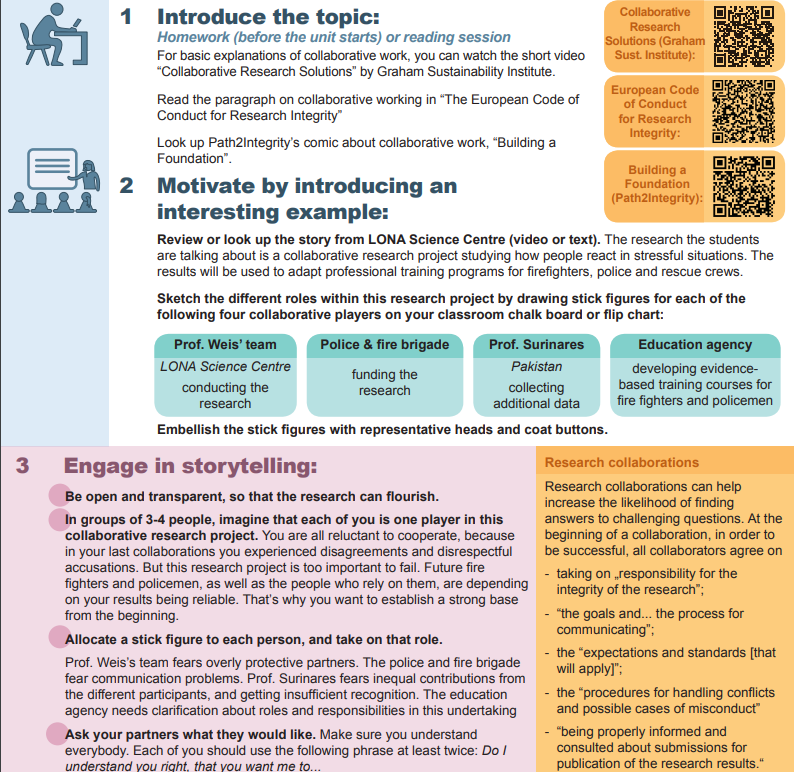 With the Path2Integrity learning cards for Research Integrity, secondary school students and bachelor students, master students and young researchers are sensitised for the topic and get to learn what it means that good research is based on honesty. Through the use of the dialogical method, students actively deal with Research Integrity questions in roleplay and storytelling. They engage in real-life examples and acquire competencies that are necessary for the development and use of reliable research results and finally for establishing a culture of Research Integrity.
But be aware, there´s a danger of fun: informative comics and lively videos raise questions about Research Integrity and make students want to learn more about it. In rotatory role-playing and storytelling, creativity is as much demanded as argumentative skills. Give it a try - introduce yourself, shake hands with other participants and start an open and transparent session!
Schools and universities are invited to be part of the Path2Integrity experience and test the learning cards. Each learning card can be used in sessions from 90 to 120 minutes to introduce and to enable the understanding of reliable research on the basis of various topics: research environment, safeguards, research procedures, collaborative working and publication and dissemination.
All learning cards can be accessed via zenodo: https://zenodo.org/search?page=1&size=20&q=path2integrity
If you want to test the Path2Integrity learning cards in your school or university, please contact Lisa Häberlein.