responsible conduct of research, reliable research results, teaching and learning
Path2Integrity Virtual Symposium: "(Evaluating) Learning Research Ethics and Research Integrity"
4 MAY 2020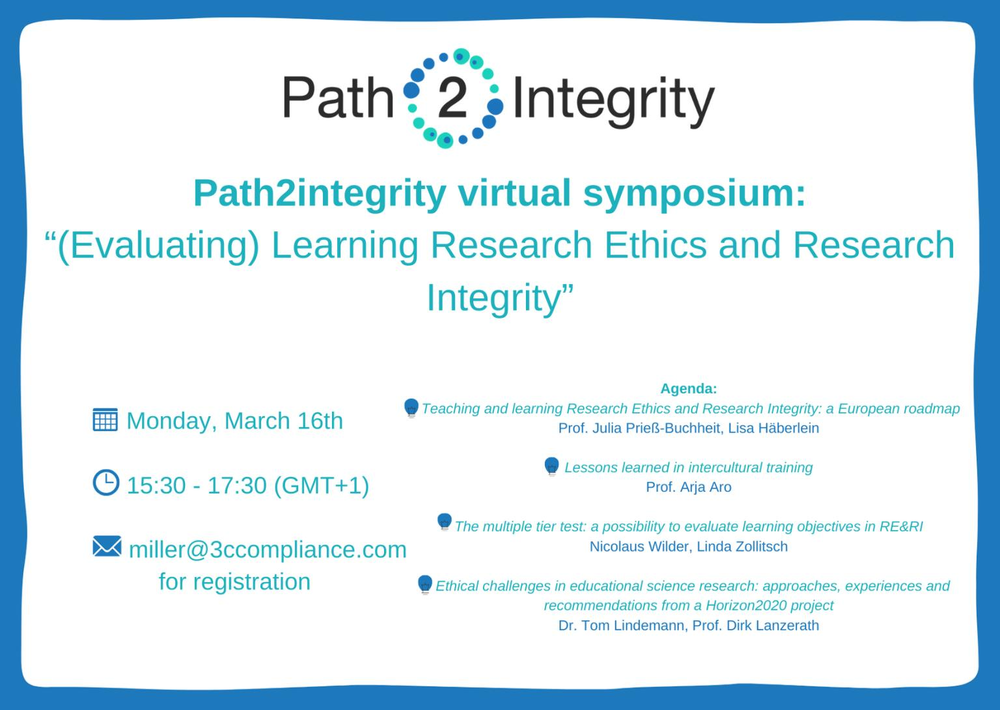 The COVID-19 lockdown poses challenges for many initiatives, including Path2Integrity. Despite the limits set by the pandemic, project coordinator Prof. Julia Priess-Buchheit organised a virtual symposium on March 16, which focused on evaluating and learning research ethics (RE) & research integrity (RI).
The virtual event opened with a speech by Julia "About learning responsible conduct of research", which provided an overview of the Path2Integrity learning programme. She offered some insights into different perspectives on research integrity, including the student's view that plagiarism "is immoral because you are stealing" (Student in Kroll 1988, p. 213), the academic view that responsible conduct in research simply is good citizenship applied to professional life (cf. Steneck 2007, xi), and so on. Moreover, the aspect of teaching and learning RE & RI was discussed from a digital perspective by Lisa Häberlein, one of Julia's team members from Coburg University. The Path2Integrity roadmap and the map of RI in curricula are visually appealing online tools which bring together learning material that can be helpful in teaching RI and RE, as well as various related topics.
Train-the-trainer programmes were another point of interest, and were addressed with an insightful presentation by advisory board member Arja R. Aro, who provided two exemplifying train-the trainer cases in Saudi Arabia (since 2012) and Tunisia (since 2017). Evaluating RE & RI programmes was another major point of discussion. Focusing on the Path2Integrity learning cards, meanwhile, Nicolaus Wilder of Kiel University reviewed how to measure success of the learning materials: "The P2ILC programme is considered successful as soon as the participants, after the intervention, orient their actions and decisions more strongly towards the ethical standards of the scientific community based on scientifically well- founded arguments (or, if necessary, can question them with good reason)", said Nicolaus.
Due to unfortunate technical difficulties, Tom Lindemann of EUREC Office was unable to deliver his presentation on the ethical aspects related to the work of the project, focusing in particular on informed consent procedures and responsible data management.
Events such as the Path2Integrity virtual symposium help support the idea that we can teach and learn research integrity regardless of the current challenging situation.
References:
Kroll, B. M. (1988). How College Freshmen View Plagiarism. Written Communication, 5(2), 203–221. https://doi.org/10.1177/0741088388005002005
Steneck, N. (2007). Introduction to the Responsible Conduct of Research. Office of Research Integrity (ORI). Revised edition: https://ori.hhs.gov/sites/default/files/rcrintro.pdf