responsible conduct of research, reliable research results, teaching and learning
Building a culture of research integrity: Call for papers
21 OCT 2019
Highlight the benefits of responsible conduct of research in the European research environment by submitting your paper on the topic "Building a culture of research integrity: problems, challenges, good practices" in the polish journal Edukacja (Education) Quarterly for a special English-language thematic issue!

Path2Integrity invites academics, researchers of research integrity and research culture, members of international consortia implementing EU projects as well as teachers and trainers of responsible conduct of research who would like to share their didactic experience, to submit their texts for the publication of this special issue!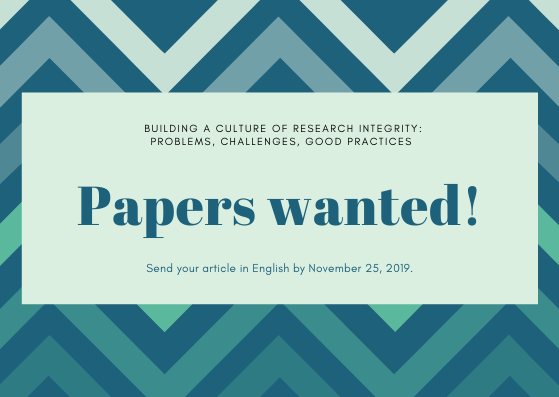 Looking forward to receiving your articles dealing with the following topics:
teaching responsible conduct of research in high schools and universities;
formation of trainers and teachers dealing with the responsible conduct of research in their practice (in didactics);
perception of the role of scientists, responsible conduct of research authorities in research;
good and bad practices in the area of ​​research integrity;
respecting, implementing and practical functioning of national and international regulations regarding the principles of research conduct in science;
implementing solutions that promote and strengthen the culture of research integrity in local and international academic environments.
Submit you article in English with a volume of 30-50 thousand characters with spaces (+ references cited) and please send them by November 25, 2019; at: redakcja@ibe.edu.pl.

For more information, click here.